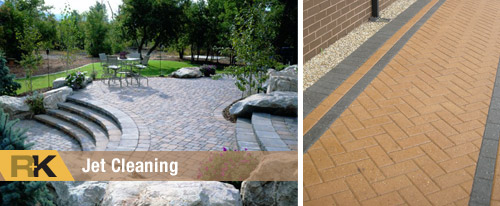 Jet Cleaning
We recognise that your patio or block paving is an investment, which you have made in your home and we will help you to maintain this investment to it's true value.Unfortunately due to the UK climate block paving can become infested with grass, moss, lichen. Dirty and weedy block paving gives a bad first impression, damages the appearance of your home and devalues your home. R&K professional driveway,patio pressure washing services have the methods and procedures in place to restore your paving at a fraction of its initial installation cost.
We clean: Patios, paths, driveways, roofs, tennis courts, garden furniture, conservatories and garden decking.
The sealing side of our business is growing rapidly. More and more customers are deciding to seal their patios, block paving and garden decking because of the benefits that comes with sealing external surfaces.
Benefits of sealant:
sealant stops any weeds growing through
protects against loss of colour from UV light
resistants oil and stain penetration
suitable for most patio slabs and block paving
sealant has fantastic rich smooth finish
GET A QUICK QUOTE
Use our simple online form
to get a free no obligation
quote.
OUR PROMISE